Friday, July 19th, 2013 In
Swedish
By Eric Eissler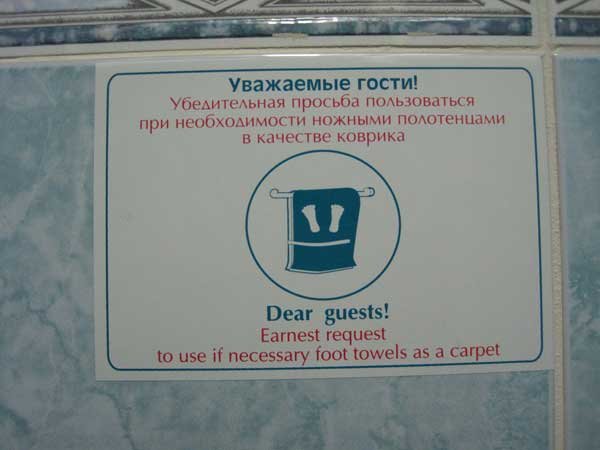 Have you ever read a sign that says something like this? This is from a very large, and well known hotel in Moscow. The English is, well, puzzling, to say the least. When I read this, I was not sure what I was supposed to do. If you are running a prestigious establishment, little things like these can bring down your reputation. A better and "localized" version of what this sign is trying to convey is something like this: "Dear Guests! (they got that part right!) We kindly ask you to place the foot towels on the floor, when stepping out of the shower." This conveys the message in a clear, concise and understandable manner that English speakers wouldn't slip over. This sign is a great example of bad translation.
Localization and Communication, not just Translation
At Copypanthers, we are not just a translation agency, we are a communication agency. We offer our clients localization in the target language. What is localization, you ask?  I have mentioned localization a few times already, but let's better define the term.
Localization: Having a text localized for a specific language and location.
  This means that the translated text should sound
natural
to the person who is reading it and not like a confused, disjointed, jumbled mess like on the sign above: the obvious bad translation.
Quality Control and Native Speakers
In order to achieve localization and have our translations sounding smooth and flowing to the target audience's ear, Copypanthers employs translators that only translate into their
native
language(s). Minor details are important, in closely related languages, like Portuguese and Brazilian Portuguese, a Brazilian translator is not going to able to translate a text that has an audience in Portugal. Why, you ask? Because this would not be localization! No localization = Bad translation! To ensure a quality localization, after the text has been translated, it is proofread by one of our professionals and then has to pass the final test, the internal review. This review is the final stage of our quality control process to ensure that your text will sound like a native wrote it! Localization is something that we at Copypanthers take very seriously. This is something you should take seriously, too, in order to avoid embarrassing translations like the one above. по-русски? In Russian, or how about another language? Contact us for a
free quote
!