As a translation and website content agency, we have to rely on a number of program tools on a daily basis.  This is true not just for our office but for absolutely everybody who works and is active in the translation and writing industry.  From content writers and journalists to ghost bloggers, authors and copywriters – many find themselves dependent on text editing programs.  One of our most important tools is the spell check function of the said programs.  Chances are that you have identified an embarrassing typo in a public text more than once.  And that you have most probably come across a typo even in a renowned newspaper.  This shows that absolutely everybody, from beginners in the industry to professionals, risk missing typos.  The good news is that there is a quick and fairly simple solution to avoid these little embarrassing mistakes!
Activating the spell check function in your language for MS Office 2010
Below, you'll find Copypanthers' quick and easy tutorial on how to begin using the MS Office 2010 language functions correctly.  Follow the indications of the image below for changing your language settings and for activating the MS Office 2010 spell check function: Step 1 
Selecting your language settings for MS Office 2010
Choosing "More Commands" from the drop-down menu above takes you to the following menu below: Step 2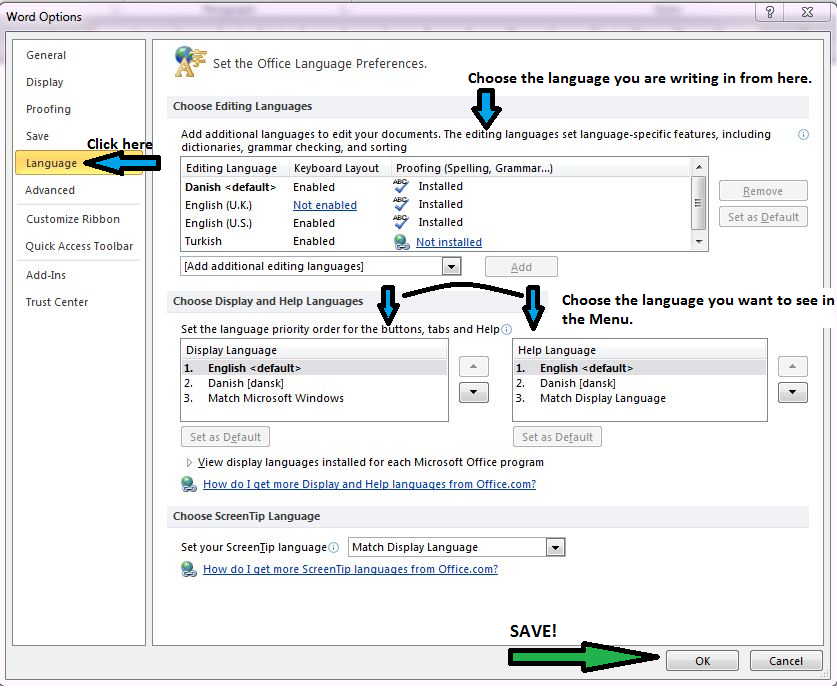 Important note:  please do not forget to save your changes! Following these three easy steps will guarantee you that you'll have less -or perhaps no more- typos in the future. Some more useful links…
The basics

Index of language resources

Translation

Tone & target audience
XTM procedures

SEO
Do you want to know more?